KeepCup has the power to influence a broad cross-section of society and inspire change. At the core of all that we do, is our respect for the reuser, for the everyday changemaker.
We are a bottom-up business and have grown from the advocacy of individual behaviour change. We create a powerful circle of influence by being true to our purpose and by connecting authentically with like-minded people and communities. They then drive our brand forward through their passion. Our products are the gateway to a single-use free journey, that is about reduce, and re-use.
Our customer surveys tell us that most people tend to purchase or own 4-8 KeepCup products, either as gifts for others or to satisfy varying occasions for use, e.g., coffee and tea, or locations for use such as at home, or work.
When creating targeted communications, it's important to be mindful of who you are talking to, be respectful of how you engage with that audience and be aware of who that audience could then influence. Never forget; the world is a connected place and respect is reciprocal.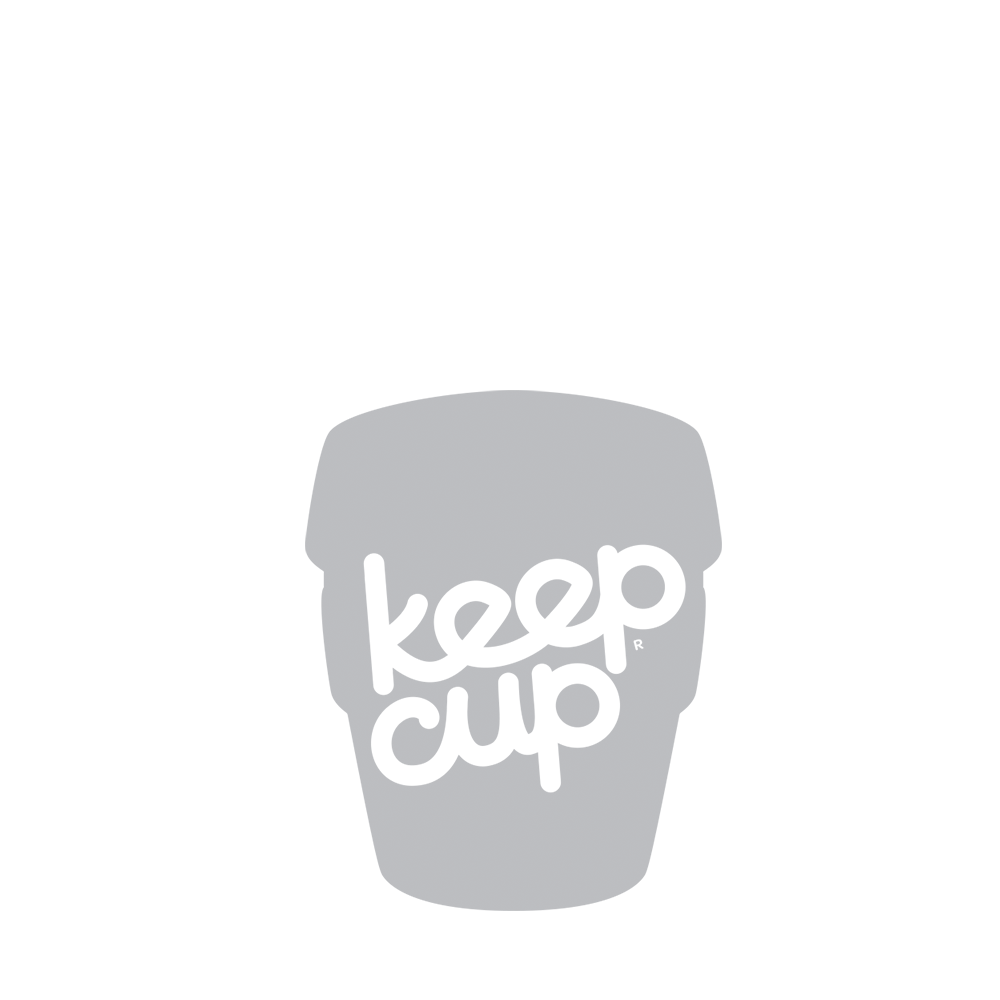 Our sales channels
We have three clear channels, each of them is interrelated and serves to bolster the brand in different ways.
B2B

Resellers: Café, Roaster, Retail

B2C
All channels are of value and each require a different set of efforts to yield profit. We sell through all channels for the brand to be viable in the market, and more importantly, for us to reach our overall goal of reuse.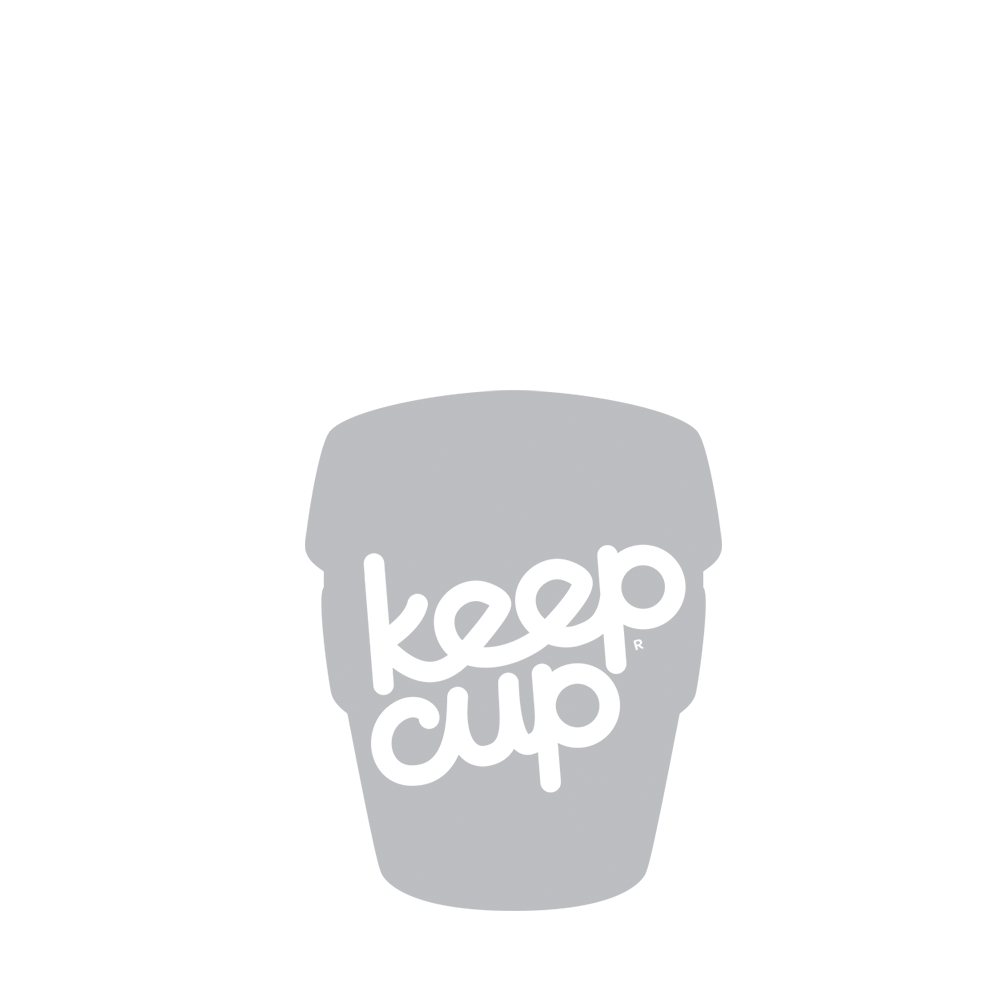 Margin mix
To give you a clear idea of margins, we have outlaid these against our RRP for our three core channels. We have a MSRP in USD, CAD, AUD, NZD, GBP and Euro that provides a guide for setting the price point.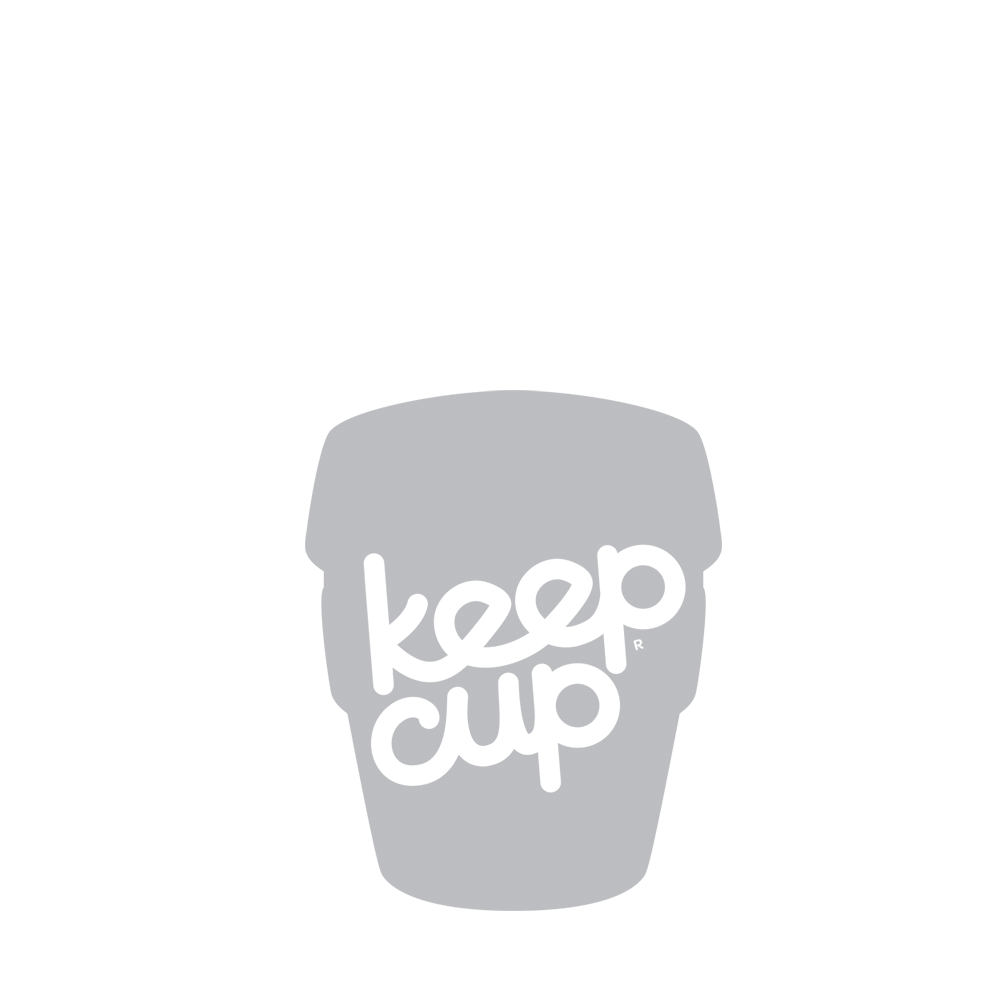 You are not just selling a product
When you're selling KeepCup, you're selling far more than just a product. You're selling yourself as a champion of the reuse movement, the product as a world-leading solution to the single-use waste problem, and you're selling the importance of sustainability and the power of individual action to drive meaningful change.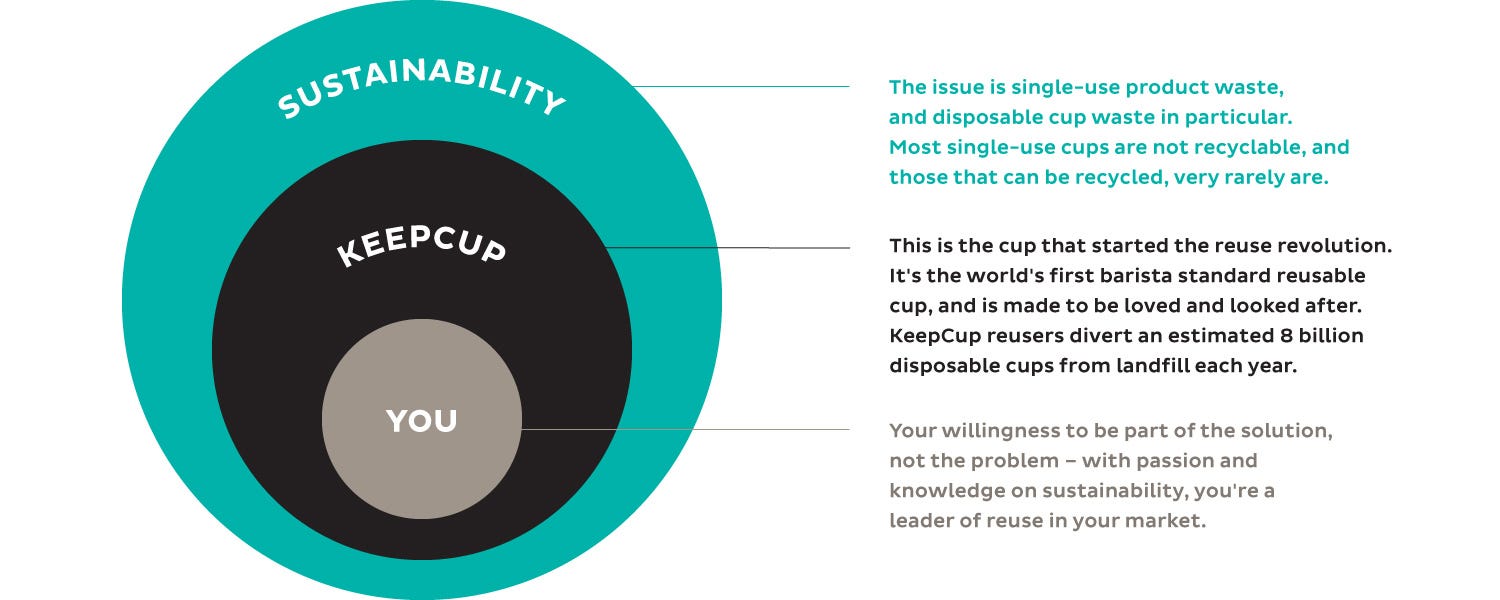 Getting to know your customers will help to close the deal
The more you understand the customer and their issues, the easier it is to tailor a win-win conversation, that builds the brand and keeps the customer coming back.
Don't tell – be curious, ask questions
Where did you hear about KeepCup? Or have you heard about KeepCup? (A simple but important question to help understand the motivation to purchase, and help marketing bring in more leads.)

What interests you about the product?

What is the size split in your business?

What size do customers/employees use

What problem are you trying to solve? Revenue? Engagement? Impact? Loyalty?
Understand how the decision will be made
Timeframe for the decision?

Are you considering other options/solutions?

What is the decision-making process? Who will make the final decision?

What is the main driver of the decision?

Roll out process? One store, trial?

What are the metrics of success?
Sell through and promotion
How will you promote? Over which channels?

Would you like co-branded marketing materials? Reuse HQ page?

Roll out? One store, trial? Is there a target for distribution? Internet code/reuse HQ page

Are there any global opportunities? Who should we speak to?
Implement and maximise
At KeepCup we offer more than just reusable cups. We work closely with our partners in developing unique implementation plans which encourage reuse within the workplace through internal communications and employee engagement.
Examples include:
KeepCup collection points, rather than desk drops to encourage conversations on reuse

Internal messaging and communications

Personal messaging from the CEO or environmental team

Encourage ongoing reuse with awareness events and speakers

Introduce a single-use levy on all drinks served in single-use cups

Set and work towards a target for reducing single-use cup waste

Shout about your success. Let employees, clients, investors and stakeholders know what you are doing for the environment

Using your customer's sales data to generate reuse statistics so together we can create success stories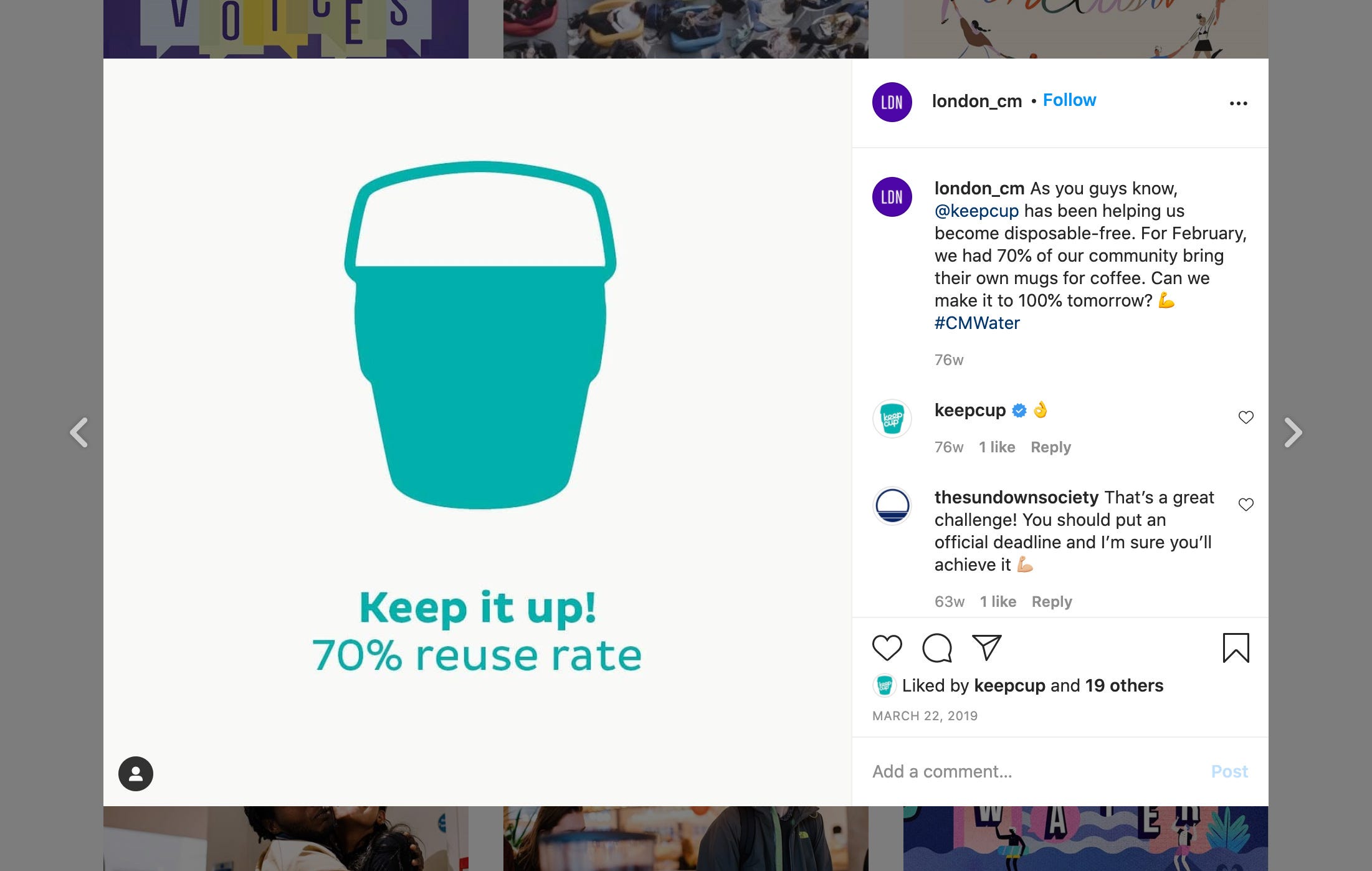 KeepCup worked with Creative Mornings London to transition from single-use cups to KeepCups during their monthly events. They have shared their progress towards 100% reuse over Instagram.
Managing misalignment
When misalignment is suspected, it's important to start with the context from the buyer's point of view.
Is this sale contributing to the problem or the solution? i.e. is the customer purchasing reusable cups as a sustainable alternative to single-use cups?

Is this sale for branded merchandise giveaways?

Will it help our café and roaster channel or work against it?
Understanding what they're looking to do with our product gives us a starting point to appropriately and considerately convey what's important to us, and work with the customer towards a solution that may work for all parties.
Misalignment cannot always be overcome, and we are intentionally diligent in ensuring buyers are right for us, and that our product is right for them.
If you are unsure, we are happy to talk through the options and look for ways to make it work.