While the word 'KeepCup' is used often in reference to reusable cups as a category, KeepCup is our name and our trademark, registered globally since 2009.
Intellectual Property is the cornerstone of protection of creativity and KeepCup is both design registered and patent protected globally, which we enforce.
Design styling and drawings, engineering and tooling manufacture, prototypes, drawing and tooling modifications, material testing, off tool production sample refining and product user testing- all KeepCup products are the results of year on year work and continued high standards of quality manufacture.
It's important to us that when you see and buy a KeepCup, that it really is one of our products.
Genuine competitors provide great alternative reusable solutions, but low quality, poorly engineered knock offs undermine the reuse movement.
Correct use of our brand name in social media
The KeepCup name and logo are registered trademarks and should only be used by authorised KeepCup staff on official accounts.
We have robust systems in place to detect and manage trademark infringement online.
When you are setting up and naming your account, please avoid using "KeepCup" in your account handle or profile name (i.e. KeepCup Italy, KeepCup Russia, @keepcuponline).
This ensures that your followers are not confused about how our business is structured internationally and will help you avoid customer service queries that would otherwise be directed to the official KeepCup account.
We encourage you to mention KeepCup and your relationship with us in your account description (i.e. "Sharing the Reuse Revolution as an official distributor of @KeepCup").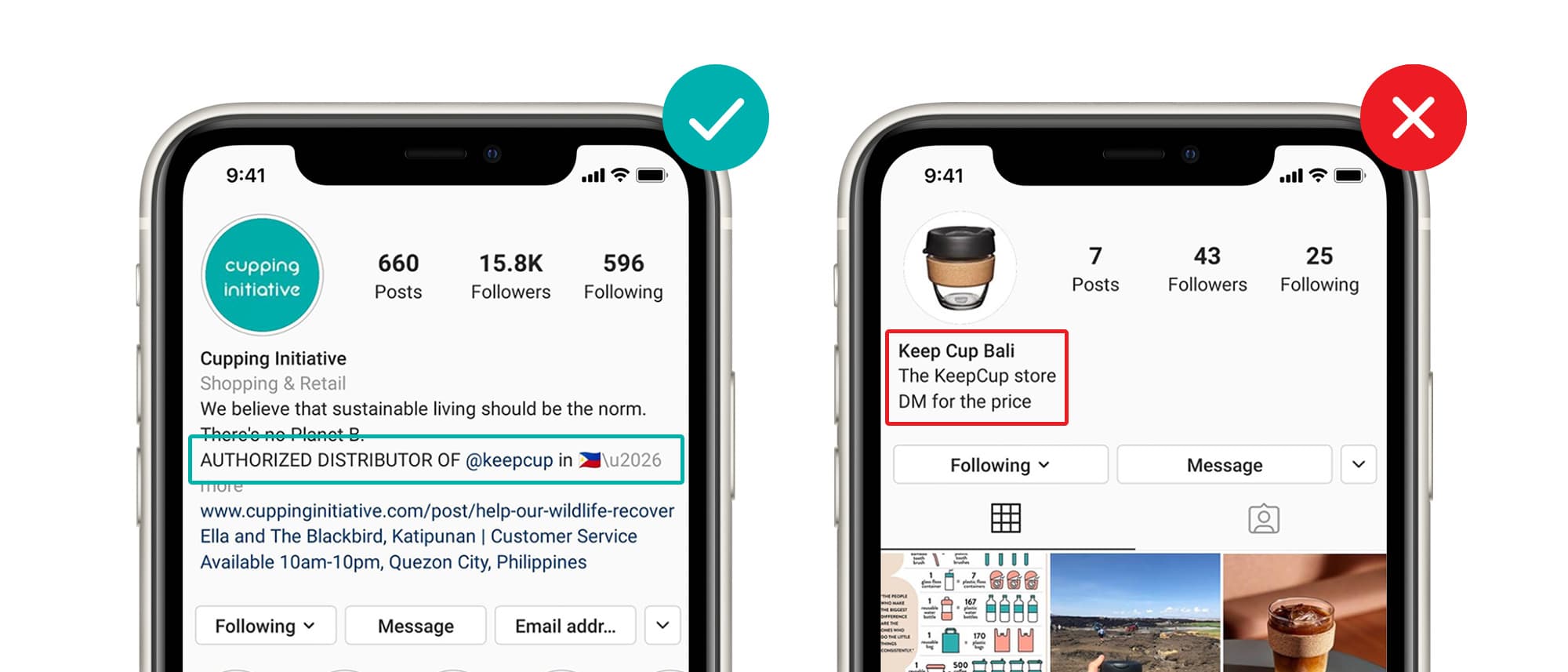 Red Points is the online tool we use to protect our IP, and report on any replicas we find in the market. We keep a close eye on this, however, if you come across any fake or lookalike KeepCups, please send the information to your Account Manager immediately.
RedPoints look for three aspects when looking to enforce an infringement:
Brand abuse – was our brand mentioned but it was not our product?
Counterfeit – using KeepCup as a brand to sell a product copy
Replica – looks like our product, but they haven't mentioned KeepCup in the description
Using and supplying visual assets
We have created a library of visual assets for your using in creating content and promoting brand and product.
We ask you to source images and content only from this tool to ensure it is up to date and within licence. Some professional images and illustrations are licenced by channel and geography – we will upload all assets you are free to use.
Please credit the photographer where appropriate.
If you have great photography you are happy to share with the global network, we are happy for you to send to us to upload. Sharing content from all over the world helps to underscore the global reuse movement.