KeepCup Bottle Thermal is a new twist on reuse. Made from 18/8 stainless steel, it's a vacuum insulated cup and double-walled bottle lid. KeepCup Bottle unscrews in the middle to fill with fruit, ice, boba and everything in between.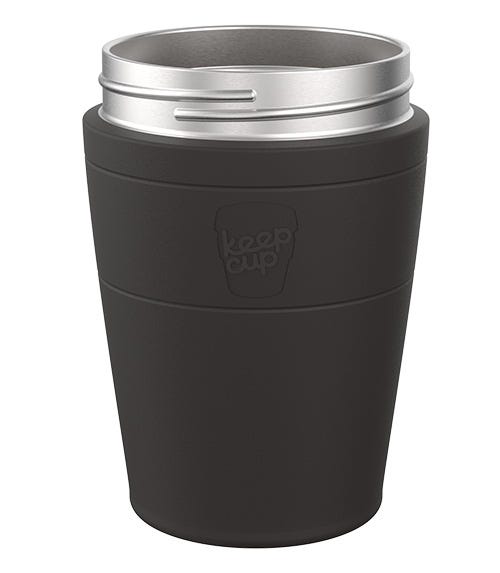 18/8 food-grade electropolished stainless steel
Benefits
Double-walled and vacuum sealed for thermal insulation, to keep your drink hot (or cold) for longer, and to protect touch.

Electropolished stainless steel to enjoy the full flavour of your drink. We use the highest quality food-grade stainless steel 18/8 (304) so there is no metallic after taste, meaning a ceramic painted coating isn't necessary.

Volumes and sizes replicating industry standard single-use cups for ease of cafe workflow and speed of service.

Opens with a half twist for easy lid removal, providing a large opening to allow easy addition of coffee, boba, ice or fruit.
Material information

Stainless steel 18/8 (also referred to as type 304) is the most common grade of stainless steel used for food preparation and dining due to its high quality, robust durability and non-corrosive nature. It's known for its durability and reuse longevity and is a 100% recyclable resource without degradation.  
Due to its long life, high value and increasing demand, the average recycled content in current global stainless steel production is 25%. The stainless steel used for our cups comes from South Korea, a mill close to our manufacturer in China and is 35% recycled scrap content. 
Electropolishing creates a microscopically smooth, mirror-like surface (compared to polished). It provides extra protection from corrosion, metallic taint and reduced opportunity for bacterial growth, and removes the need for an interior coating or lining.
Part manufacture
China

Manufacture waste
Stainless steel parts that do not meet quality standard are collected and sold back to the mill for use in production. Scrap metal content is mixed with raw material as standard industry practice.

Assembly waste

Customer returns and reject parts from assembly are collected and sent to local commercial recycling. Along with other collected metal material, they are shipped to Germany for reprocessing. Due to material long life, high value and increasing demand the average recycled content in current global production is 25%. Scrap is valuable for the raw elements they contain, such as chromium and nickel, and for the reduced raw material required.
End of life
Stainless steel – even with plastic can be recycled in household waste collection services. The paint finish does not impact recyclability.